From:
Peter Henderson, Reuters
Schwarzenegger to Obama cabinet: Water... please!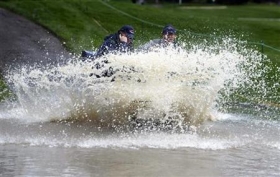 SAN FRANCISCO (Reuters) - California Governor Arnold Schwarzenegger has demanded that President Barack Obama's cabinet rethink federal policy that would divert water from parched farms and cities to threatened fish, his administration said on Wednesday.
California's rivers used to brim with salmon and sturgeon, but a massive system of canals diverted water that fed farms and cities, now suffering through a third year of drought.
Schwarzenegger has gained credibility as an environmentalist for his push to curb greenhouse gases but he argued that federal plans to save fish will worsen a water crisis that has cost
farmers
more than $700 million and caused mandatory rationing in cities of the most populous state.
Article continues